A SCHOOL in Melbourne's west is offering to pay its former students' HECS debts and guarantee employment to graduating male primary school teachers, as it tries to recruit male teachers and tackle gender imbalance in the staffroom.
At Westbourne Grammar School in the outer western suburb of Truganina, male students who go on to study primary teaching at tertiary level will have their HECS fees paid by the school in full. This figure amounts to about $5000 per student per year.
The school also provides up to 40 days of work each year, paying the student about $120 a day. At the end of tertiary study, Westbourne guarantees a teaching position, with the student required to stay for at least three years.
Principal Geoffrey Ryan said the scheme was a win-win for the school and students.
"It's a reaction to a situation where two-thirds of the teaching profession are female and if you look at the new entrants, it's three to one females to males," Mr Ryan said. "We're just trying to redress the balance of this."
Of the 25 classroom teachers in Westbourne's primary section, just four are male.
"Over the 18 years I've been here, there have been fewer males going into teaching generally but particularly primary teaching," Mr Ryan said. "And it's not just here, it's right across the profession."
But there are more men on the way, with two former Westbourne students currently studying primary school teaching under the scheme. One will finish this year; the other will finish in 2008.
A third student, Simon Bernaldo, in year 12, hopes to take part in the scheme. He is aiming to study primary teaching at either the Australian Catholic University, Deakin University or Melbourne University.
Simon, 17, has wanted to become a primary teacher for the past five years. He said he was impressed with the scheme and keen to "release the burden of paying HECS."
Primary teaching appealed to him because he wanted to help young people learn.
"I feel I can be the male role model that many children need, because some kids have parents that are divorced and they live with their mother," he said.
In the decade to 2005, the percentage of males teaching in primary schools nationwide slid from 24 to 20 per cent, according to a report from the Australian Bureau of Statistics.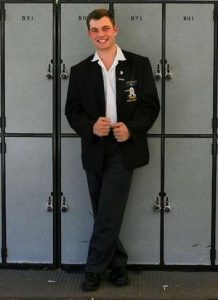 Andrew Blair, of the Australian Association of State Secondary Principals, said what Westbourne was doing could be applied more broadly to tackle other shortages, such as the imbalance in subject areas and teachers in rural areas.
Brighton Grammar principal Michael Urwin, chair of the Association of Heads of Independent Schools of Australia, said having male teachers was a plus for any school.
"We attract enrolments to Brighton Grammar School because parents see there's a good opportunity to have a male teacher," Mr Urwin said.
"The child shouldn't see learning as being a gender-related activity … I think it's a tragedy that a child can go through primary education and not have a male teacher."