Men thinking of making the change into primary school teaching can now take a taster day to find out more. It's part of an initiative to boost the percentage of men in the profession in Switzerland – which currently stands at around 18%.
It's a cold, crisp day in November. Inside the Stigeli school house at Affoltern in Albis primary school, year 4 pupils, aged 9-10, are listening attentively to their teacher, Thomas Walker. They are preparing for a visit to the nearby Kindergarten, in which the young children will tell stories and the primary schoolers will have to write them down. The topic: the circus.
"What kind of animals might they see at the circus?" asks Walker. Hands shoot up; Walker makes sure everyone has their turn.
Observing the lesson is Reto Schatt, aged 21. He is on a taster day – actually a half day – at the school. This involves not only shadowing a male teacher, but also doing a little teaching, if wanted. Afterwards participants can quiz their teacher mentors on what life is really like as a male primary school teacher.
The scheme is part of a wider project (Umsteiger, einsteigen) run by the Men in Primary Schools Association to encourage men into the profession, which started in May 2016. It is supported by the Federal Office for Gender Equality and the Zug and Zurich Universities of Teacher Education.
Schatt is a trained mason, but has done Berufsmatura (higher vocational diploma). Until recently, he was doing work experience with disabled children.
"The joy of imparting knowledge and learning, working with people, this is what really appeals to me," he told swissinfo.ch during the 20-minute break before the next lesson. "The building trade is sometimes rather solitary."
He is considering signing up for teacher training. But first he needs to know whether he has the right qualifications.
From snowboarding to teaching
The class teacher is himself someone who came to teaching late. Walker, aged 35, worked for many years in a ski and snowboarding shop, and did junior football training in his spare time, before completing his primary school teaching studies at the Zug University of Teacher Education last year. The job at the primary school in the small town in canton Zurich is his first one.
"There is a long time left in my working career and I had to re-organize my life because you get too old for the snowboarding business," he explained.
"My school time was also not really very cool so I wanted to be a better teacher than the ones I had."
Walker finds teaching very fulfilling. "There are definitely a lot of good moments, but you also have moments in which you can't help the children or can't bring them to the point that you want. That's the other side to this job."
You do need to be able to work with women, he added. Switzerland-wide there are just 18.4% men in primary school teaching (2015), down from 30% in 1995. Walker is one of three male teachers (compared with over 30 women) at his school.
Walker thinks that men are more interested in lucrative careers at first, but this can change later on. "I know a lot of men who have moved into doing a more social work job," he said.
Taster days can also show men how schooling has changed. There's a lot more use of technology, for example, Walker explained.
What it's really like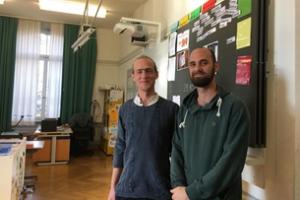 The opportunity to chat to a man in the profession is one of the main benefits of the taster day scheme, says Katarina Farkas, in charge of project at the Zug University of Teacher Education.
"Participants can talk about things which they may not want to talk about with us like financing, how much work is it, how do you organize yourself and can you have a relationship," she told swissinfo.ch.
It is important to boost the numbers of male teachers, she pointed out, but pupils do not in general suffer because of higher levels of female staff. "We don't think men are better teachers, we just think that mixed teams are better for schools," Farkas said.
For its part, the Men in Primary Schools Association says that there is an equality aspect too, as male teachers encourage boys to think about the profession as a career. And in order to "develop realistic images of men, boys in particular need living role models", rather than virtual ones.
Whereas as teaching used to be a good career, there are many options these days, said Farkas as to why there are so few men in primary school profession. She doesn't think pay is necessarily an issue. Teachers receive around a third more than those in social work, a sector with similar issues, for example.
There are signs that the campaign, which has included newspaper adverts and cinema spots in Zug, is bearing fruit. In fact, Farkas was surprised by how many men – around 60 by November – have taken up the taster day via her institution. They come from all walks of life: from banking, to carpentry and engineering. She has even had a few applications to teacher training in summer 2017 as a result.
Although the project is currently only running in the German-speaking part of Switzerland, there is interest in the French-speaking part, the Tribune de Genève has reported. There is an awareness of the issue there, but pay and a perception of teaching being a "female" profession, are the blockers, the article said.
As for the Zug University of Teacher Education: "We are going on with the taster day programme for another year and with the overall campaign until June 2018," Farkas said.