Most red-blooded males want to be spacemen, fire-fighters, bus drivers, fighter pilots, engineers, doctors… but not Le Dang Hanh, 26. He is never happier than when he is dancing, singing and playing games with his young charges. Hanh is a teacher at Quynh Phuong nursery school in Quynh Luu District in the central province of Nghe An.
At first, I found it hard to believe that a Vietnamese man would willingly become a nursery school teacher. My curiosity arroused, I decided to travel several hundred kilometres from Ha Noi to Nghe An to bear witness to this marvel of a man.
Seeing is believing. Hanh, the nursery school teacher, is real. He is slim and tall, with thick eyebrows and a moustache. He has a firm handshake and his eyes are very bright.
He is the second of three siblings. His father is a forestry worker and earns a good living.
Hanh says he developed an interested in singing, dancing and telling stories at a young age. Even before he became a teacher he used to sing and play games with small children in his neighbourhood. That was why he decided to enrol in a nursery school-teachers class at Nha Trang-based National College of Pedagogy.
"My friends and my brothers all advised me against studying nursery, even after I had passed the entrance exam. Fortunately, my father appreciated my decision so my determination wasn't swayed," Hanh says.
During the interview, Hanh keeps disappearing into the adjacent classroom to check up on the children.
After returning to the interview for the umpteenth time, he admits that when he first enrolled at nursery teaching college he felt shy because he was the only man among 400 students.
"I used to be the centre of attention. Other students were quite keen to see how I taught. Eventually they grew accustomed to the fact that I was a male nursery school teacher and my shyness evaporated."
However, Hanh admits that being a nursery school teacher has its downside.
"To be honest, it is very difficult for me to find a wife because most woman feel reluctant to be my girlfriend on learning that I'm a male teacher at a nursery school."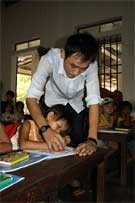 Nguyen Thi Phuong, the school principal, says she has tried to help Hanh meet women, but admits it's an uphill battle.
"I have acted as matchmaker for Hanh with beautiful young female teachers at the school but they are all reluctant to go out with a male nursery school teacher. They are afraid that the family would be in financial difficulties if both parents worked as teachers."
The morning of my arrival, Hanh was teaching colouring and drawing. He works hard and his shirt is soaked in sweat.
It's hard work. He says that when the school held a festival to celebrate the new school year, he had to dance for hours without a break.
Five years have passed since Hanh joined the school, but Phuong says she still finds it strange to think that she has a male nursery teacher.
"One day at the end of the summer vacation when I was the vice principal, I received a phone call from the former principal to inform me that our school had just accepted a male teacher.
"I could not believe my ears, so I kept asking the principal whether he was joking. I have to admit that I actually didn't want to accept him. I just didn't believe that a male teacher could do the job. I was wrong. But still, I'm not sure Hanh is as good as his female counterparts."
Hanh says he was so daunted by the prospect of teaching nursery kids he sought advice from his parents.
And when he started work, parents withheld their children from school.
"Knowing that a male teacher would be in charge of the class, parents reacted with anger and refused to bring their children to school. They said they didn't want an inexperienced male teacher looking after their children," Hanh says.
However, with time, the parents grew to trust Hanh and he now has 42 pupils, the biggest class in the school.
"If it were not for his enthusiasm, his passionate love for children, I would not have accepted Hanh as a teacher," Phuong says smiling. "Even though I have tried to persuade Hanh many times to do another job, he insists on being a nursery teacher at the school. He truly loves his job and his students."
Hanh says that it is this love for the job that saw him threw the first difficult days. "I even see my children in my dreams. How beautiful and lovely those obedient and naive children are. The songs I sing in my dreams are for the children," Hanh says.
Looking around at the eager young faces about me, it seems that Hanh's love for his students is reciprocated.