It took a terrible affliction suffered by a sibling for Anaru Jones to find his calling in life.
The 22-year-old from Stokes Valley helps out at Tui Park Kindergarten in Linden four days a week as part of programme run by Whanau Maanaki Kindergartens.
The Y-Men initiative has seen 32 men, in four groups in the past year, placed in a Wellington region kindergarten for six months to see whether teaching is something they want to pursue.
Figures from Ministry of Education show a wide gap between the number of male and female teachers in early childhood education in New Zealand – 321 out of 18,856 teachers, or 1.7 per cent, are male.
Going into the sector wasn't something Jones thought of until last summer, when his younger brother Motunga, 4, lost his hearing after a bout of meningitis.
He was given an allowance from Work and Income to go to Tui Park to help Motunga every day and although his brother was his focus, he soon discovered that early childhood teaching was for him.
"I love kids and my family and friends have always said I'm good with them," he said.
"I was there [at Tui Park] to look after Motu, but whenever I'd turn up, I'd get hugs from all the other kids.
"It was a nice feeling and the teachers there really encouraged me to put my name forward for the Y-men programme."
Jones spends four days a week at Tui Park – where Motunga now vies for his big brother's attention – and one day a fortnight at Whanau Maanaki in Porirua, talking about his challenges and experiences, getting advice and studying for a national certificate in business.
As a new father to 4-week-old Mylee Rain, he said embarking on an early childhood degree next year would undoubtedly increase his skills at home too.
The Education Ministry's acting deputy secretary for early learning and student achievement, Karl Le Quesne, commended the proactive approach of Whanau Manaaki and said the teachers from the programme were valued in the communities where they taught.
"The number of male teachers [in this industry] is increasing, but numbers remain low," he said.
"This disparity is not unique to New Zealand, our ratio is around the average to OECD countries."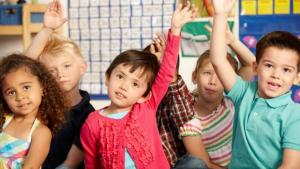 The senior teacher overseeing the Y-Men programme, Helen Smithies, said about a third of the 32 men were looking at further careers in early childhood teaching.
"These young men are being given an opportunity," she said.
"We don't expect them to all become teachers, but the hope is they can fulfil potential we know they have.
"They are great in kindergartens because the kids, some of whom don't have father figures, adore them and they offer a different lens on teaching than women."